From: Frank Bauer
Date:
Feeling a lack of focus?
You look at the time it's already 3 P.M. Glance over your to-do list and see that nothing's been crossed out!
Where has all that time gone?
You procrastinate. Wonder. Browse the 'net feeling like just because you're looking around you're moving your business forward.
Not so fast!
90% of your time is probably going to waste!

Why Time Management Is Crucial As An Entrepreneur

Most people imagine that working from home is a casual affair that should not be treated with seriousness.
However, if you are thinking about venturing into any form of home business, you have to acknowledge the fact that it requires as much seriousness as any other business.
In as much as operating a home business allows you the flexibility to choose the time to work, you should always ensure that you manage your time well for you to get good results.
Time management is so important because as an entrepreneur, you need to stay organized and plan the day so you don't end up staring at the wall.
But how do you go from procrastinating to having laser focus?
I created a special guide to help you in getting more done...A LOT MORE!
Let me present to you...


Seize The Day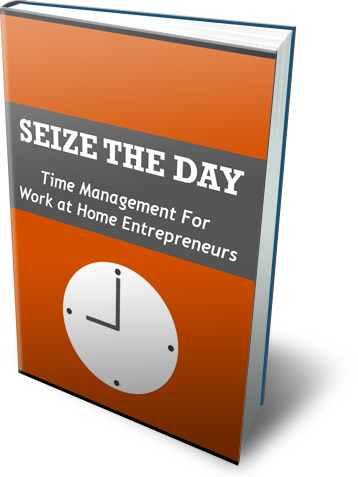 Here's what you'll discover in this guide:
8 reasons why time management is crucial to your success as an entrepreneur.


5 tactics to get as much done throughout your day.


Top 7 productivity apps for your smartphone.


How to create a schedule when working from home.


How to stay accountable while working from home.


How to use the 80/20 rule in your online business.


How to find out when you are most productive to work. Are you a morning or night person? Follow this guide.


Tactics for how to set a schedule for your work and sticking to it.


How to create a work environment that encourages better work flow.


How rewarding yourself for your efforts leads to getting more done.


How to create an "activity log".


...and much, much more!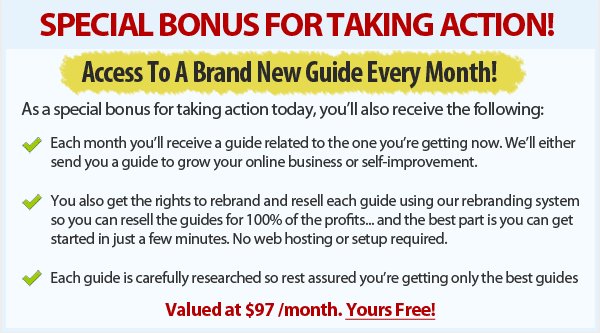 How Can I Use This Powerful Guide Right Now?
You can own Seize The Daytoday for a mere $7.00.
That is a truly incredible value, especially considering the significant difference it'll make to your success.

Did I mention this eBook is only $7.00? It's definitely a point worth repeating. You will be hard-pressed to find a more valuable resource.
Your purchase is absolutely risk free. Try the product for 30 days, and if you're not satisfied just send me an email and I'll send you a refund right away. So there's absolutely no risk on your part. All the risk is on me.
I'm delighted to have the chance to share this powerful guide with you, and I know you'll be very happy with the results.

Again, you will receive the comprehensive and valuable insights you need to become successful for only $7.00.

Please click the Add To Cart button right now and take ownership of this valuable eBook TODAY!
Get Instant Access Right Now!
Yes! I want instant access to
Seize The Day
Regular Price: $27.00
Today Only: $7.00!
To Your Success,
Frank Bauer


Director of Add2it.com Marketing Pty Ltd
Co-founder of iResults.ws