From: Frank Bauer
Date:
People think that making profit is as simple as buying something for a dollar and selling it for two.
Well, the 'buying' part is easy especially if you have the money to invest. However, the 'selling' part can get really tricky. Many entrepreneurs go out business because they failed on the 'selling' part.

This is because there are more tricks to doing business than meets the eye.
Many young entrepreneurs make the mistake of assuming that they already know everything that there is to know in running a business.
They think that common sense is all they need in order to run a business successfully and make lots of profits.

But there is a good reason why some people spend years in college just to know the tricks of doing business.
This is because doing business and making profit is not as easy as it looks. And common sense is definitely not enough.

So, should you go to college and get a business course degree before venturing into business?
Well, we are not saying that it is necessary for you to do so.
Instead, what we have done is researched, tested and wrote a guide consisting of 100 tactics to increase your sales.


Profit Maximizing Handbook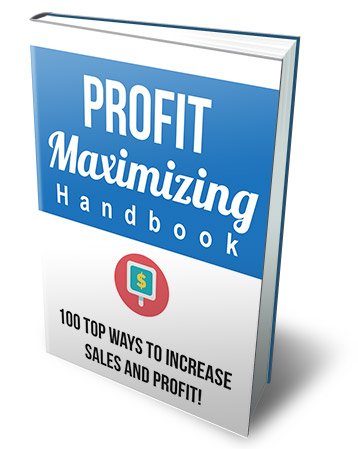 Here's what you'll discover in this guide:
100 different ways to increase your sales - online and offline


How to make additional sales more efficiently. These tactics will double, even quadruple your sales. Just implement one and see for yourself.


The power of upselling and cross-selling with every product/service you sell.


How to offer freebies and make profit at the same time.


How to advertise more effectively. There are free ways to advertise and promote your business. Try these tactics.


Using the "Perfect Timing" tactic to see an influx of sales!
+ many, many more ways, tips, tricks and tactics to further increase your bottom line!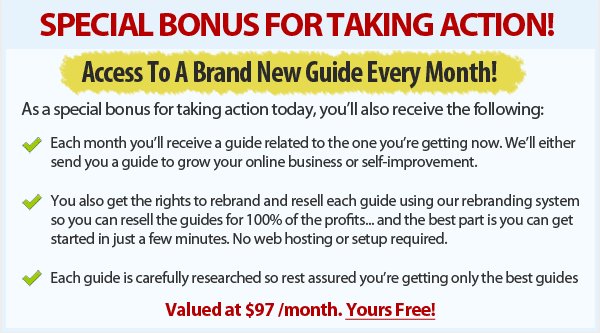 How Can I Use This Powerful Guide Right Now?
You can own Profit Maximizing Handbook today for a mere $7.00.
That is a truly incredible value, especially considering the significant difference it'll make to your success.

Did I mention this eBook is only $7.00? It's definitely a point worth repeating. You will be hard-pressed to find a more valuable resource.
Your purchase is absolutely risk free. Try the product for 30 days, and if you're not satisfied just send me an email and I'll send you a refund right away. So there's absolutely no risk on your part. All the risk is on me.
I'm delighted to have the chance to share this powerful guide with you, and I know you'll be very happy with the results.

Again, you will receive the comprehensive and valuable insights you need to become successful for only $7.00.

Please click the Add To Cart button right now and take ownership of this valuable eBook TODAY!
Get Instant Access Right Now!
Yes! I want instant access to
Profit Maximizing Handbook
Regular Price: $27.00
Today Only: $7.00!
To Your Success,
Frank Bauer


Director of Add2it.com Marketing Pty Ltd
Co-founder of iResults.ws