From: Frank Bauer
Date:
Are you struggling to get things done?
Are you lacking focus and procrastinate when it's time to move projects forward?
It's no surprise.
Nowadays, people in this age are overwhelmed and suffering from information overload.
With all the non-sense and junk out there, how do you stop all the distractions so you can finally have the freedom you deserve?
You need to be wiser with your time. You need to become productive.
How Do You Become More Productive?
Productivity is a word that tends to get thrown around a lot, but most middle managers only use it in sentences asking the average employee to hunker down and get to it.
Few people actually give you techniques on how to achieve that quality of being able to produce excellent results consistently from your work/business.

In the modern world, productivity is a common ideal. It does not have to be the measure of much work you can accomplish in your job.
Productivity can also be about completing the things you need to do at home, or even during your leisure time.
The point is that you can get more things done in the same time or even less.
Wouldn't it be great if you had some productivity techniques that would help you move forward?
Well, I've written a special eBook dedicated to this topic...


101 Productivity Hacks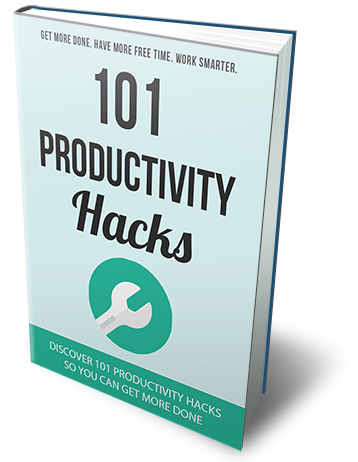 IHere's just some of the things you'll discover inside:
The "Just Do It" approach of taking action and getting things done


How everything starts with the mind first. Before you "get" you must "do" and "feel".


How to control your actions for more effectiveness


How to accelerate your success by leveraging on _________ _________


How to set a schedule for your projects and work so you can manage your time more effectively and of course, spend more time doing the things you love!


How to get rid of poisonous distraction. Most people are distracted from all the non-sense going around. Here's how to have a clear path to a distraction-free life


How to prioritize your work so you can choose which tasks are important


How to maximize your time so you can get the most important done, first.


The power of a gratitude journal and why you should have one. They say if you're not grateful for what you already have, you can't get any more. Learn to be grateful first and you will attract a ton more!


How perfectionism kills. Things don't need to be perfect, and how you can detach yourself from perfectionism.


+ much, much more!


That's just the tip of the ice berg! There's a whole lot more in this guide.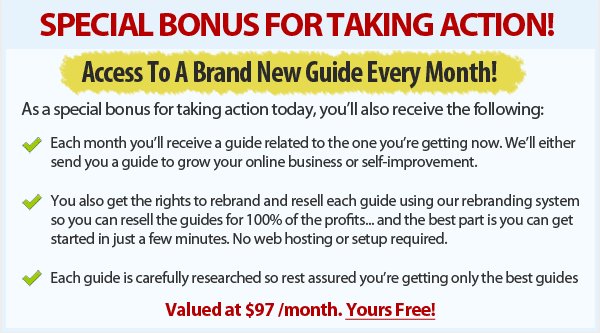 How Can I Use This Powerful Guide Right Now?
You can own Focus today for a mere $7.00.
That is a truly incredible value, especially considering the significant difference it'll make to your success.

Did I mention this eBook is only $7.00? It's definitely a point worth repeating. You will be hard-pressed to find a more valuable resource.
Your purchase is absolutely risk free. Try the product for 30 days, and if you're not satisfied just send me an email and I'll send you a refund right away. So there's absolutely no risk on your part. All the risk is on me.
I'm delighted to have the chance to share this powerful guide with you, and I know you'll be very happy with the results.

Again, you will receive the comprehensive and valuable insights you need to become successful for only $7.00.

Please click the Add To Cart button right now and take ownership of this valuable eBook TODAY!
Get Instant Access Right Now!
Yes! I want instant access to
101 Productivity Hacks
Regular Price: $27.00
Today Only: $7.00!
To Your Success,
Frank Bauer


Director of Add2it.com Marketing Pty Ltd
Co-founder of iResults.ws