From: Frank Bauer
Date:
Whether you're a consultant, online marketer or own a small boutique business, a subscriber list is crucial to the growth and success of your business.
It is said that a subscriber is worth about a dollar a month in revenue.
If you had 1000 subscribers, that's $1000 a month.
What about 10,000 subscribes?
You guess it! $10,000 a month.
Knowing what you know now, how much of a priority would you make list building now?
Very high!
Or perhaps you already have a list of subscribers but have plateaued and you just can't hit that next stage.

So Where Do You Even Start And How Can You Grow Your List of Subscribers?

Getting started and growing your list isn't easy.
There's a big difference between 1000 subscribers and 10,000 subscribers, but if you only have 1000 subscribers, how do you get to the next stage and reach 10,000 subscribers?
Luckily, I've put together something special for you that's going to explode your list!
These tactics are based on proven methods that I've used and so many other successful business have used to sky-rocket their opt-ins and list!
Let me introduce to you...

List Launcher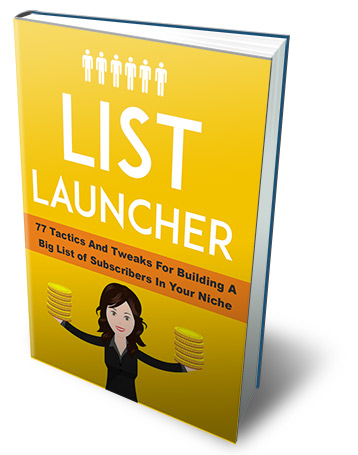 Here's what you'll discover in this guide:
77 tactics and tweaks for building a big list of subscribers in your niche!


Tip #2: Stay r_______. This is what will separate you from the good to great!


Tip #5: Remove the ________ on your squeeze page. Doing this mistake will cause low opt-in rates. Avoid this.


Tip #11: Stay ______, get ______ attention. This tip is crucial to making sure you don't scare away subscribers!


Using social media to gain more subscribers. It's a powerful and free way to get more subscribers to your list.


How to use blog commenting the right way to gain more subscribers.


...and much, much more!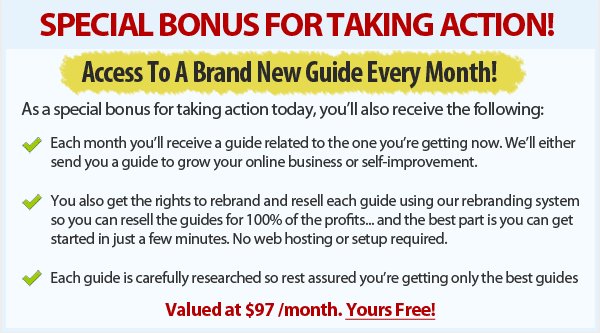 How Can I Use This Powerful Guide Right Now?
You can own List Launcher today for a mere $7.00.
That is a truly incredible value, especially considering the significant difference it'll make to your success.

Did I mention this eBook is only $7.00? It's definitely a point worth repeating. You will be hard-pressed to find a more valuable resource.
Your purchase is absolutely risk free. Try the product for 30 days, and if you're not satisfied just send me an email and I'll send you a refund right away. So there's absolutely no risk on your part. All the risk is on me.
I'm delighted to have the chance to share this powerful guide with you, and I know you'll be very happy with the results.

Again, you will receive the comprehensive and valuable insights you need to become successful for only $7.00.

Please click the Add To Cart button right now and take ownership of this valuable eBook TODAY!
Get Instant Access Right Now!
Yes! I want instant access to
List Launcher
Regular Price: $27.00
Today Only: $7.00!
To Your Success,
Frank Bauer


Director of Add2it.com Marketing Pty Ltd
Co-founder of iResults.ws