From: Frank Bauer
Date:
Do you tend to find yourself procrastinating a lot when it comes to getting your work done?
Are you suffering from information overload which is causing distraction and less focus?
Do you want to get more done while staying focused and motivated?
Then read this important letter...
So How Can You Take More Action While
Staying Focused and Motivated?
Anyone can come up with a goal, but not everyone has the ability to achieve it. For that to happen, you need to take action first.
Goals are not like dreams or prayers. You cannot just close your eyes and wish for it to happen. You have to do something.

But of course, it does not end there...
Certainly, taking the first step toward reaching your goal is the most crucial but it is not the only thing you have to do.
There are a lot more steps to take and work hard on, and for that you need to be focused.

You need to learn how to ignore distraction. Perhaps in a perfect world, no person would have to be subjected to distraction when trying to accomplish a goal. But this is reality, and distraction comes in all shapes and sizes.
Sometimes, Distraction Comes From Within
This is the worst obstacle of all because how do you ignore something that lives inside your mind or heart? This is when motivation kicks in. As the old adage goes, when the going gets tough, the going gets tougher.
Goals are like a destination that you have to reach.


Taking action is what gives you direction toward your goal.


Staying focused ensures that you are always on the right path.


And lastly, motivation is what makes sure that you will do anything and everything to reach the end of the path, arrive at your destination, and achieve your goal.
This is a never ending and rather flexible cycle.
At times, you will need to motivate yourself in order to take action. Other times, you need to take action to stay focused.
In any case, which goes first does not matter so do not be surprised if you find yourself jumping from one tip to another.
What matters is that you are taking all the positive steps toward reaching your goal.
So with that said, let me introduce to you a special book...

FOCUS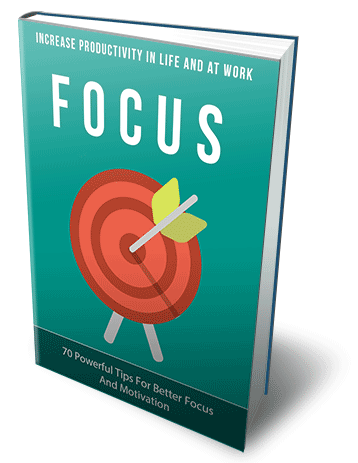 IHere's just some of the things you'll discover inside:
The "Just Do It" approach of taking action and getting things done


How everything starts with the mind first. Before you "get" you must "do" and "feel".


How to control your actions for more effectiveness


How to accelerate your success by leveraging on _________ _________


How to set a schedule for your projects and work so you can manage your time more effectively and of course, spend more time doing the things you love!


How to get rid of poisonous distraction. Most people are distracted from all the non-sense going around. Here's how to have a clear path to a distraction-free life


How to prioritize your work so you can choose which tasks are important


How to maximize your time so you can get the most important done, first.


The power of a gratitude journal and why you should have one. They say if you're not grateful for what you already have, you can't get any more. Learn to be grateful first and you will attract a ton more!


How perfectionism kills. Things don't need to be perfect, and how you can detach yourself from perfectionism.


+ much, much more!


That's just the tip of the ice berg! There's a whole lot more in this guide.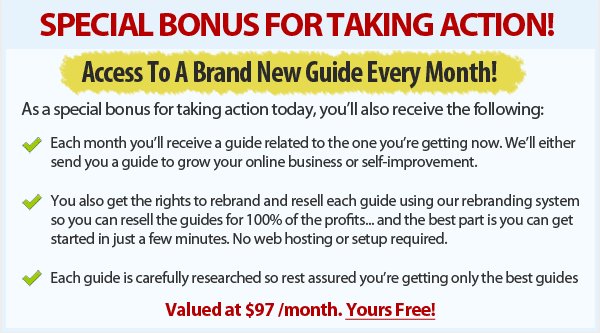 How Can I Use This Powerful Guide Right Now?
You can own Focus today for a mere $7.00.
That is a truly incredible value, especially considering the significant difference it'll make to your success.

Did I mention this eBook is only $7.00? It's definitely a point worth repeating. You will be hard-pressed to find a more valuable resource.
Your purchase is absolutely risk free. Try the product for 30 days, and if you're not satisfied just send me an email and I'll send you a refund right away. So there's absolutely no risk on your part. All the risk is on me.
I'm delighted to have the chance to share this powerful guide with you, and I know you'll be very happy with the results.

Again, you will receive the comprehensive and valuable insights you need to become successful for only $7.00.

Please click the Add To Cart button right now and take ownership of this valuable eBook TODAY!
Get Instant Access Right Now!
Yes! I want instant access to
Focus
Regular Price: $27.00
Today Only: $7.00!
To Your Success,
Frank Bauer


Director of Add2it.com Marketing Pty Ltd
Co-founder of iResults.ws